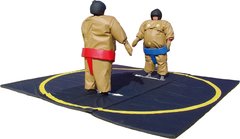 Rockin' SUMO Wrestling
$249.00
Please call to reserve this item.
"I'D Rather Throw ya....than get to know ya"
Channel your inner fighting spirit with our ROCKIN' Sumo Suits ! Challenge your friends, family, even the BOSS to a comical match of Sumo Wrestling. They are the perfect crowd pleaser and offer hours of pure entertainment for all. Be prepared to push, bump, and knock each other around....all while being fully protected by the fully padded suits. The suites are designed for optimal safety and include all the quirky details. SUMO BUN included !! First one to the ground ...looses!